Your sustainable building partner
Construction and demolition waste produces approximately one-third of all waste in the EU, much of which ends up in landfill (1). Here at Rockfon, we know that it doesn't have to be this way. We are not only conscious about the waste volume in our industry, but we are committed to do our share by taking responsibility for our own waste and trying our absolute best to minimize that.
The raw materials of our acoustic solutions are natural and abundant, so you can be confident you're supporting the environment across the entire cycle – from improving human wellbeing to helping the planet. Rockfon uses natural stone, we recycle as part of the circular economy and commit to reducing our carbon footprint every year. Because we don't think the next generation of acoustic solutions should be at the expense of the next generation of people.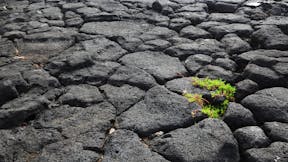 Natural. Circular. Sustainable.
Discover our sustainability story and the positive contribution you make to people and the planet when you choose our acoustic ceiling and wall solutions.