Creating a safe and healthy environment
Our acoustic ceilings, baffles and other products are all designed to both reduce sound and absorb noise to create high-end acoustic environments. This may seem trivial, but an environment that protects us from unwanted noise can have a huge positive impact on our physical health, wellbeing, learning capacity and social behaviour. As stated in our 2020 Sustainability Report, 1.8 million students with improved learning conditions due to acoustics solutions delivered to schools in 2020.
In addition to their acoustic properties, our solutions made of stone wool ensure that your building complies with the following health and safety standards.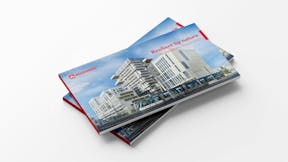 Sustainability at ROCKWOOL Group
Learn how we as part of the ROCKWOOL Group can contribute to building a better future.